Gotthelf (Grigory Ivanovich) Fischer von Waldheim (1771–1853)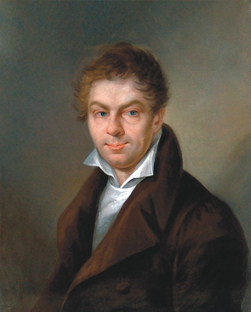 Gotthelf Fischer, more familiar by his Russian name Grigory Ivanovich Fischer, was born in a small town Waldheim in Hessen. He went to school in Freiburg, then attended lectures in the universities of Yena, Halle, and Goettingen, and won bachelor's degree at the University of Leipzig and doctor's degree at the University of Goettingen. Fischer spent two years (1795-1797) in the National Museum of Natural History in Paris and became a close friend and colleague of G. Cuvier, E. Geoffroy de Saint Hilaire, J.-B. Lamarck, F. Lacepede, Daubenton. Then he moved to the University of Mainz where he prepared and published 2-volumed catalogue of Paris museum.
He was invited to Moscow University to take up a position of Director of both Demidoff's Cabinet of Natural History and Demidoff's Museum in 1803 and took it in 1804. He became soon one of the most prominent scientists in natural history in Russia of those times known both for his activities in organizing due works in the above Cabinet and in the science proper. He also initiated the Moscow Society of Naturalists at Moscow University, which members made an important contribution to developments of the Cabinet. Fischer published a complete catalogue of Demidoff's Museum, and his monographs "Zoognosia…", "Oryctognosia…" and especially "Entomographia…" brought to him the European fame. He was ennobled for these works and got the last name Waldheim.
Fischer's input in the development of the Museum was most significant after the Civil War of 1812. The museum collections were destroyed by the Moscow Fire, and Fischer made all his best to renew them. He arranged collections in the systematic order, as in the Paris Museum, and published catalogue of restored University museum in 1822.
Being enthusiastic about principles of management of natural history museums in Europe, Fischer developed a project of organizing a kind of national museum in Moscow on the basis of the University Cabinet. However, this idea appeared to be rejected by the University officials, so Fischer retired from the Cabinet and Department in 1832.