Olga Leonidovna Rossolimo (born, 1928)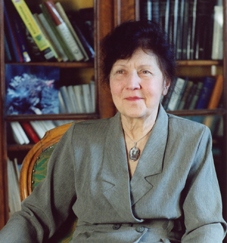 O.L. Rossolimo was born in Moscow in the family of biologists. Her farther L.L. Rossolimo was acknowledged hydrobiologist, head of the Kosino Biological Station, Dean of the Biological Faculty of the Moscow University during 2d World War. She graduated from that faculty in 1952, was working in the Museum since 1957 to 2009. Became director of this Museum in 1970.
Her research interests were in diversity of mammals: her doctoral dissertation was on their geographic variation. But principal affair of all her life was just the Museum. The latter undergone fundamental reconstruction during 1970-80s including complete renewal of all exhibitions and collection rooms. O. Rossolimo managed annual publication of Proceedings [Trudy] of the Museum and started a new one, the Zoological Studies. She stimulated theoretical investigations in taxonomy and phylogenetics, in addition to faunal studies traditional for Museum. Due to this, the Museum gained the official status of a research institution at the University, and O. Rossolimo was elected a member of the Russian Academy of Natural Sciences.