Aleksander Andreevich Tikhomirov (1850–1931)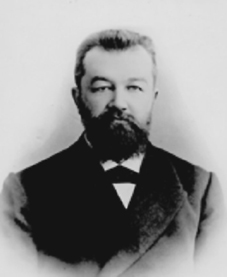 Graduated as a lawyer from the St.Petersbugh University in 1872 and as a zoologist from the Moscow University in 1876. Invited by A.P. Bogdanov to the Zoology Department and the Museum of Moscow University as assistant professor in 1877, raised to full professor in 1888. Accepted a position of Chair of the Department and director of the Museum in 1896 after Bogdanov's death. Initiated and organized construction of a new building for the Museum, in which the latter is located now.
Principal research interests were in physiology of the silkworm: discovered phenomenon of artificial parthenogenesis, founded practical sericulture in Russia. Was deeply involved in administrative affairs: was serving as Rector of Moscow University in 1899-1904, as director of a department at the Ministry of Education since 1904, and as trustee of the Moscow Teaching Circuit since 1911. His carrier was broken off in 1917.