Public societies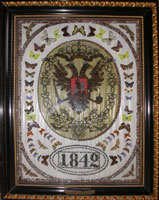 This was and is an important category of "depositors" enriching the Museum by important contributions. Two societies established by G.Fischer and A.P.Bogdanov appeared especially important in development of the Museum' collections.
One of them was the Society of Naturalists at Moscow University which was initiated by Fischer in 1805. The role of its members as contributors to the Museum became especially important after the Moscow Fire in 1812. This society developed in 1832 a special projects of turning the Zoological Museum into the National Museum of Natural History, but this idea was not approved by the University administration.
Another important contributor of this kind was the Society of Amateurs in Natural History, Anthropology, and Ethnography established by Bogdanov in 1864. Its monetary sources were spent mainly for organization of expeditions, purchasing important collections, and also for granting visits of the Museum specialists, including Bogdanov himself, to other outstanding museums and zoological stations in Europe. Among most productive expeditions was one of A.P. Fedchenko to Turkestan in 1869-1872. This society worked out in 1889 a special projects of supporting zoological investigations and collecting to be conducted during sea voyages. The most important contribution resulted from the round-the-world voyage of the cruiser "Admiral Nakhimov" mainly due to collecting activity of the ship medical, Dr. V.I.Isaev.