Valentina I. Khotovitskaya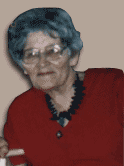 Was an Australian citizen who suggested in 1986 to donate her private collection of shalls to the Museum. It occupied 3 years to overcome all bureaucratic formalities and to transport the collection from Brisbane to Moscow. Russian-Slavonic Society of Brisbane deserves special mention here, as all his members participated in packing and shipping the specimens and paying all needed fees.
This collection is the largest acquisition of mollusks by the Museum during its long history. It contains about 15 thousand specimens representing more than 2 thousand species belonging nearly to all classes of this phylum from various regions of the World Ocean.