Bird collections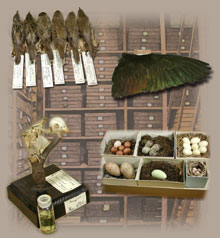 There are several forms of preparation of bird specimens adopted in the Section of Ornithology. These are: dried study skins stuffed with the cotton; total specimens or parts thereof conserved and stored in alcohol; nests and layings (eggs with removed contents). Recently, separate wings became important part of the "dry" collection, whicj make them more appropriate for analyses of coloration, molting, etc. At last, tissue samples are being collected and kept for DNA analysis.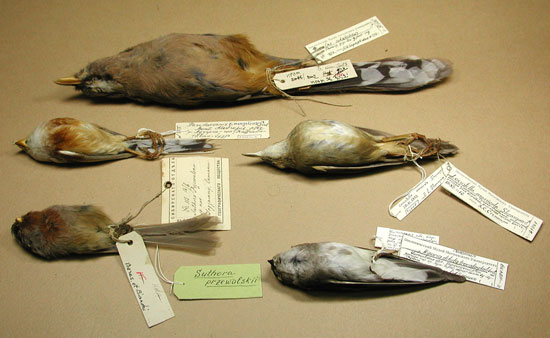 Different parts of the entire collection stock are all stored separately from each other: dry skins, nests with layings, wet collection, type specimens. Besides, collections obtained from persons or institutions under special agreement of restricted admission are also stored separately.
Dry skins are kept in special cases, chests and museum cages. Alcoholic specimens are stored in the glass or other appropriate vessels.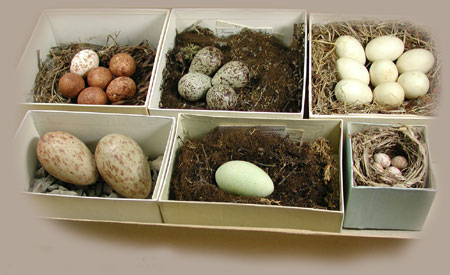 Collecting nests with layings is a special "invention" of Russian ornithologists, and the collection kept in this Museum is among the largest ones. In other countries nests and layings are stored separately from each other which makes them less valuable scientifically. Each item of this collection is placed in a separate box with glass cover which makes it possible to study some of their features without opening the box.
All the materials both in the collection proper and in the catalogue are arranged taxonomically, from the order down to the species level. Within each species, the specimens and cards are arranged geographically.
There are two peculiarities in the bird collecting. First, ornithology in general and collecting in particular has been developing in large part due to amateurs who gathered and owned private collections. Many of them were delivered subsequently to museums, and their owners became acknowledged professional ornithologists.
Another important peculiarity is defined by laboriousness of preparing qualified mounted skins of birds suitable for long term storage. Their preparation requests skill and time, so a collector is able to make just limited number of scientifically valuable specimens in the field. That is why the growth of ornithological collections has never been so high as of other vertebrates. Therefore in many instances existing collections are still inadequate for certain research purposes, and new bird specimens are more than welcome to the Section collections.
At the beginning of 21th century, ornithological collections of the museum consist of 118,000 study skins, more than 8,000 nests with eggs, nearly 3,000 "wet" specimens, more than 1,700 skeletons, and more than 2,000 tissue samples.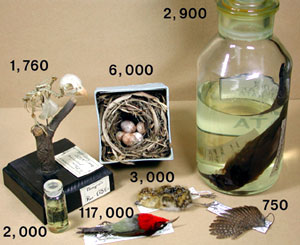 With respect to the number of birds kept in Zoological Museum, these collections give primacy in Russia only to those in Zoological Institute (St. Petersburg). Collection of egg clutches and nests is the largest in Eastern Europe and Northern Asia.
Modern forms of registration of materials coming to the Section were adopted in 1932. There is a "Book of entries" and several registry books, each being kept separately for dry skins, oological, and "wet" collections, as well as one for the materials under preparation.
Detailed data on the specimens written down into the respective "Registry book" are duplicated on the museum label attached to the specimen and the card stored in the systematic catalogue. The type catalogue is also kept, it is duplicated in the electronic form.
Each specimen is assigned its individual collection number fixed in all forms of documentation.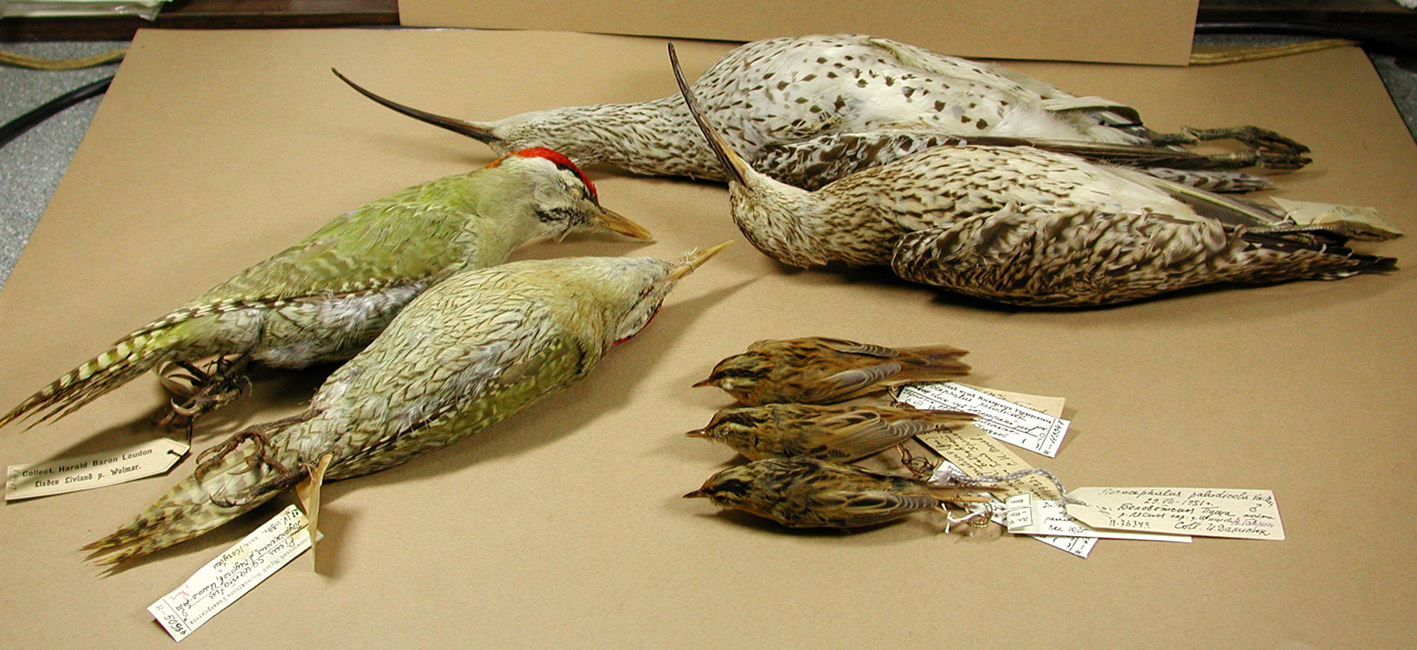 Ornithological collections, both the specimens and the catalogues, are accessible to professional zoologists, students and postgraduates, as well as to recognized amateurs. The visitor is requested to have an application letter from the institution he/she works in. The registration form is to be completed, in which aims of the visit are to be indicated. Besides, it is highly desirable that a person willing to work with the collection would adjust on the date of supposed visit with the Section staff.