Mammal collections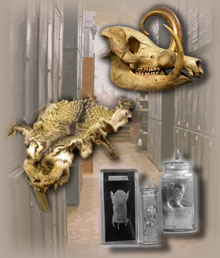 Total volume of these collections is about 210,000 specimens. In addition, about 12,000 are stored in the Section of Evolutionary Morphology. Type collection includes about 600 specimens.
Depending on the status and form of preparation, the collections are divided into the following storage groups. Its main part includes materials, with as detailed field data as possible (or, if there are no such data, they are unique in one or another respect) and provided with all records. Auxiliary collection contains materials that do not meet the above criteria, they are registered only in the "Book of entries". Type collection is also stored and registered separately. The special status given the so-called "author's collection" donated to the museum with the condition of temporarily restriction of the access to them. A special storage group includes museum registration documentation. Field documentation is stored separately; it includes y original field diaries or their photocopy.
The main part of mammal collections and systematic catalogue are, as a rule, in free admission which is regulated by a curator of respective group. It is advised that a person willing to work with mammal specimens would contact to that curator in any available way to get provisional permission and to agree about appropriate date of supposed visit. It is also requested that a visitor would have an official recommendation latter from the institution he/she works at.
Admission to some part (either regional or taxonomic) of the stock collection could be temporary closed upon request of a person studying it. Admission to the type collection or to the "author's collections" is restricted and could be allowable by the curator in charge and by a donator of respective "author's" collection. Collections of the main part could be given on a short-term loan basis.
The tissue samples for DNA analyses could be taken by permission of the curator in charge. If the particular specimen is unique some way, the tissue sample causing its partial damage could be given on exchange basis only.