History of museum
Zoological Museum was founded in 1791 as the Cabinet of Natural History at the Moscow Imperial University. The first inventory of its collections was prepared by G. Fischer in 1806-1807. It has burn down nearly completely in 1812. In the course of the Cabinet recovery during the 20-ies of 19th century, zoological collections were singled out from other gatherings and became fundamentum of the future Zoological Museum. An inventory of these collections was issued in 1822. Subsequently, zoological collections were divided into exhibition, teaching, and research parts in the 1860-ies, and the museum began to function as "public" since 1866. A new museum building was designed by academician of architecture K.M. Bykovskyi and erected in 1898–1902 at the beginning of Bolshaya Nikitskaya Str., this building is occupied by the museum at present.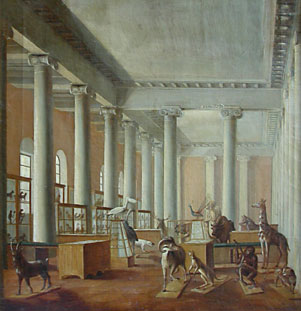 Exhibitions of the Cabinet of Natural History in the old University building on Mokhovays Sq., 1860-1862 years
In the 30-ies of 20th century, the museum was allocated to the newly established Biological Division of Moscow State University, and thereafter its formal position and status were altered not a once, until 1990-ies when it gained official status and title of the Research Zoological Museum.
During 1970-1980-ies, the museum undergone a complete renovation, which opened up new perspectives for its development. The entire exhibition became updated, the collection depositories were significantly enlarged, research part of the museum became divided into several sections.
Presently, research staff of the museum includes 26 persons, among them there are the world-class experts on particular animal taxa, as well as on theory of taxonomy. More that 40 persons are involved in the public activities, including exhibit guides, librarians, technicians, etc.