The Hall of Comparative Anatomy

The Hall of Comparative Anatomy, or briefly "Bony Hall", from the vary time of erection of new building of the museum in 1902, was designed for display of the anatomical collections. At first, it had belonged to the Cabinet of Comparative Anatomy of Moscow University, which later was transformed into the Institute of Comparative Anatomy. When its exhibition was allocated to the Zoological museum in 1931, its main contents remained intact and still persists to the present days. Now you can see many of the exhibits that have been made by the staff of the above Cabinet over a hundred years ago.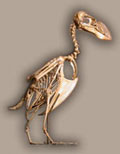 The current exhibition shows the main ideas and facts of the classical evolutionary morphology; with this, principles of evolutionary development of animals in general (the relation between ontogeny and phylogeny, evolution of organs and functions, the evolutionary progress), and examples of particular evolutionary trends of certain organs and body parts of vertebrate animals are presented and illustrated. Here you can see the internal structure of different vertebrates, their individual development (ontogeny), a variety of adaptations of the musculoskeletal system to different environments.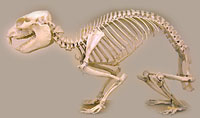 Most exhibits are skeletons of animals; "wet" preparations are few; there are also diagrams, pictures and tables, including 10 large panels of V.A. Vatagina depicting reconstruction of some fossil vertebrates.