The Scientific Terrarium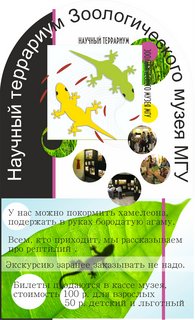 If your child has always wanted to hold live agama in his/her hand or to feed chameleon, we are waiting for you.
We will describe in detail our animals for each of our visitors,. You do not need to be register in advance, just come in any free day.
In the summer, juveniles of our pets hatch, so you take your time to see them, otherwise they would grow up.
We work on Saturday and Sunday from 11:00 to 17:00. We are open and waiting for you to come.
Our phone is (495) 629 44 54.
We have a FaceBook page: http://vk.com/terrarium_msu