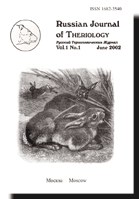 Russian Journal of Theriology
An international peer-reviewed journal published semiannually by the KMK Scientific Press Ltd. in English.
The Russian Journal of Theriology is the flagship publication of the Russian Theriological Society.
Aim and Scope
The Russian Journal of Theriology publishes papers on all aspects of mammalian biology: taxonomy, zoogeography, ecology, behavior, morphology, development, physiology, paleontology, and evolution. Studies of extinct as well as extant taxa are included. Reviews are also published; these may be invited by the Editorial Board.
Journal Ethics Statement
The Russian Journal of Theriology (RJT) complies with the basic ethical guidelines for scientific publications of the Committee on Publication Ethics (COPE) [https://publicationethics.org].
The authors and reviewers are kindly asked to refer to COPE documents and guidelines.
In particular, the duties of the RJT editorial board include taking a collegial decision of the publication of submitted articles, fair play in reviewing, providing confidentiality of the reviewing process, timely disclosure and taking account of any conflicts of interests in reviewing, full cooperation and involvement in case of any ethical complaints; reviewers contribute to editorial decision, provide prompt review or notify editors of impossibility (for any reason) to do it in time, maintain confidentiality of data related to the review and reviewed articles, follow standards of objectivity, identify relevant published sources not cited by the authors and substantial similarities with earlier published works, timely disclose any personal conflicts of interests related to authors of the reviewed articles, including competitive, collaborative, or other relevant relationships; the authors are obliged to comply with international reporting standards, provide access to raw data if needed, strictly avoid plagiarism and redundant publications, provide references to relevant published sources that influenced the submitted work, be directly responsible for authorship of the submitted manuscripts, identify possible hazards connected with methods used in the study, follow relevant (national and institutional) ethical regulations on animal and human studies, disclose any possible conflicts of interest that can influence the results, report found fundamental errors in published work in order to retract or correct the paper.
Abstracted and Indexed
Web of Science, SCOPUS, Scientific Electronic Library (eLIBRARY.RU), Zoological Record, Google Scholar
Founded in 2002.
2 issues per year. Approx. 150 pages per volume. 29.7 x 21 cm
ISSN 1682-3559
Editor-in-Chief:
Alexander O. Averianov
Associate Editors:
Alexei V. Abramov
Andrey A. Lissovsky
Alexey S. Tesakov
Leonid L. Voyta
Alexander E. Balakirev
Natalia V. Serdyuk

Advisory Board:
Natalia I. Abramson (Zoological Institute RAS, Saint Petersburg, Russia); J. David Archibald (San Diego State University, San Diego, USA); Gennady F. Baryshnikov (Zoological Institute RAS, Saint Petersburg, Russia); Olaf R.P. Bininda-Emonds (Carl von Ossietzky University, Oldenburg, Germany); Vladimir N. Bolshakov (Institute of Ecology of Plants and Animals RAS, Ekaterinburg, Russia); Fedor N. Golenishchev (Zoological Institute RAS, Saint Petersburg, Russia); Zhigang Jiang (Institute of Zoology CAS, Beijing, China); Adrian M. Lister (Natural History Museum, London, United Kingdom); Alexei V. Lopatin (Paleontological Institute RAS, Moscow, Russia); Ryuichi Masuda (Hokkaido University, Japan); Igor Ya. Pavlinov (Zoological Museum of the Moscow State University, Moscow, Russia); Viatcheslav V. Rozhnov (A.N. Severtsov Institute of Ecology and Evolution RAS, Moscow, Russia); Nikolai G. Smirnov (Institute of Ecology of Plants and Animals RAS, Ekaterinburg, Russia); Alexei N. Tikhonov (Zoological Institute RAS, Saint Petersburg, Russia).
Russian Journal of Theriology can be subscribed:
Dr. K.G.Mikhailov
KMK Sci. Press Ltd.
c/o Zoological Museum MGU
Bolshaya Nikitskaya Str. 6
Moscow 125009 Russia.
Fax (+7-495) 629-4825
E-mail: mikhailov2000@gmail.com
Annual subscription prices:
Individual 40 US $
Institutional 60 US $
Publisher: KMK Scientific Press Ltd., Moscow, Russia.